Terms & Conditions
Updated 6 months ago
WEBSITE TERMS AND CONDITIONS
WE DRAW YOUR ATTENTION IN PARTICULAR TO CONDITIONS 6, 7 AND 8 BELOW
1. INTRODUCTION
Welcome to the baselondon.com website ("the Website"). The following terms and conditions will apply when you access our Website and use our on-line ordering service. Before proceeding to place an order, we ask that you read these terms and conditions carefully. You will also find that they contain some useful advice on how to use our on-line ordering service. If you find yourself unable to agree to these terms and conditions, then you must not use either this Website or our ordering service and we ask that you do not proceed to purchase any of our products.
2. THE COMPANY
Base London Limited ("we") is a company registered in the United Kingdom (company no. 03050680; VAT no. 657 1563 20 and our Registered Office is at: 4/6 Buckingham Court, Rectory Lane, Loughton, Essex, IG10 2QZ
3. OUR PRIVACY POLICY AND YOUR SECURITY
We value your privacy and understand that you do not want your name and personal details to be released to third parties other than for processing your order and facilitating delivery. Please review our Privacy Policy and Cookie Info page which governs your use of this Website.
4. WHO CAN USE THIS WEBSITE
4.1 You may only use this Website if you are dealing as a consumer. By placing an order with us you confirm to us that you are dealing as a consumer. If you are a business or purchasing for the purposes of onward sale please contact us here as different terms and conditions will apply to you.
4.2 If you are under the age of 18, you may use the Website and the on-line ordering service only with the involvement and expressed permission of a parent or guardian. By clicking on the "Place Order" button, you confirm to us that you are at least 18 years of age or have received permission from someone who is at least 18 years of age to act on their behalf.
5. USING THE WEBSITE
5.1 We grant you a limited licence, subject to the following conditions, to access and make personal use of the Website.
5.2 You agree not to post or transfer to the Website (nor include in any message) any material which is obscene, misleading, inaccurate, defamatory, illegal, in breach of any copyright or other intellectual property right, or damaging to data, software or the performance of our or any other parties' computer system. You agree to indemnify us in respect of any liabilities, losses, expenses, or other costs whatsoever incurred as a result of a breach of your obligation under this condition 5.2, including, but not limited to, any claims made against us by any third party.
5.3 The General Data Protection Act of May 2018 is designed to protect individuals about whom information is collected. Accordingly, it lays down strict standards of accuracy, relevance and care of such data including how it may be divulged. Any data about individuals you enter onto the Website directly or include in any message to us will be subject to the Act and you are responsible for its accuracy and relevance and must have the authority to disclose it and for us to utilise it for the purposes of any transaction concluded for or by you through the Website. We will process your personal data in accordance with our Privacy and Security Policy which can be read at on the Privacy Policy and Cookie Info page.
5.4 In consideration of agreeing to your use of the Website, you acknowledge that the ownership of any intellectual property rights (including, for the avoidance of doubt, copyright, database rights and trade marks) in the Website belongs to us and/or the manufacturers of goods featured. Accordingly, no part of the Website (or its source code) may be used, transferred, copied or reproduced in whole or in part in any manner other than for the purposes of utilising the Website meaning that you may only display it on your computer screen and print it out on your printer for the sole purpose of viewing its content and placing orders.
5.5 You may not link this Website to any other website mentioned on this Website without our express authority in writing.
6. PURCHASING GOODS AND THE ON-LINE ORDERING SYSTEM
6.1 The Checkout BaseLondon.com also operates a guest checkout facility, in which you are still responsible for the safekeeping and security of all/any information which has been entered.
6.2 Contract Formation
6.2.1 In order to conclude a legally binding contract with us you must first agree unconditionally to these terms and conditions before completing and submitting our online Order Form by clicking on the "Place Order" button which appears at the end of the form. Your order represents an offer to us to purchase a product or products which will be acknowledged as received by us in a confirmatory e-mail ("your Order Confirmation").
6.2.2 For the avoidance of doubt, your Order Confirmation is for your convenience only and does not constitute an acceptance of your order. Please note that whilst we guarantee to send an Order Confirmation of every valid order we receive from you, you will understand that we cannot equally guarantee that the Order Confirmation we send will be received by you, nor that, if it is received by you, it is legible and uncorrupted.
6.2.3 We reserve the right not to process your order for any reason including by way of example, the goods no longer being available, we will notify you as soon as reasonably possible by e-mail if this is the case.
6.2.4 These terms shall be deemed to incorporate (and you agree to be bound by) any additional terms and conditions which may apply to offers and promotions appearing on the Website from time to time.
6.2.5 We reserve the right to change our terms and conditions from time to time at our sole discretion without liability to you. The latest terms and conditions will be made available on the Website. Any changes to our terms will only affect your future purchases from us and will not affect the terms on which you have previously bought products from us.
6.3 Description and Availability
6.3.1 Every effort will be made to ensure that the goods you receive match the description and images (if any) set out on this Website as far as reasonably possible. Where the specification of the goods changes materially, you will be entitled to a refund if requested. However, you acknowledge that some variation may occur especially in connection with the colour of goods.
6.3.2 If we become aware of an error in the description of goods, we will notify you of the error as soon as possible. Where we notify you of such an error you will have the opportunity either to confirm your order subject to the correct description or retract your offer to purchase upon which you will receive a full refund if the goods have been paid for.
6.3.3 The individual product detail page will inform you whether that style in a specific size is in stock or out of stock. Product that is possible to be 'Buy Now' on our website is considered to be 'In Stock'. Out of stock product, broken down by size will not be able to be entered into your shopping basket. As we process your order, we will inform you by e-mail if any products you order turn out to be unavailable.
6.4 Pricing 
6.4.1 Unless otherwise stated all prices of goods advertised on this Website are in pounds sterling and inclusive of VAT. You may view your total charge (including delivery) in the checkout page.
6.4.2 Despite our careful attention to pricing, an item could be priced incorrectly. If an item's correct price is lower than our quoted price, we will charge the lower (listed) amount and deliver the item to you. If an item's correct price is higher than our quoted price, we shall notify you of the error as soon as possible. Where we notify you of such an error you will have the opportunity either to confirm your order subject to the correct price or retract your offer to purchase upon which you will receive a full refund if the goods have been paid for.
6.4.3 In an effort to provide our customers with the most current information, price and availability information is subject to change without notice.
6.5 Payment Payment shall be made by you, using any of the methods listed on the Website at the point of order, for more information please refer to our Payment Information page.
6.6 Risk The risk of damage to or loss of goods supplied by us will pass to you when the goods are received by you. 
6.7 Delivery
6.7.1 Subject to Condition 6.3 and any contrary indication on the Website for specific items, we will endeavour to deliver your order in accordance with the delivery dates we state at the time of your order and to the preferred delivery address and in any event within 30 days, unless otherwise advertised on the Website.
6.7.2 If for any reason we cannot despatch your order within the time period in 6.7.1 (above) we will contact you with an estimated timescale for despatch. You may have the option to cancel your order at any time prior to the new estimated date of despatch and we will provide you with a full refund.
6.7.3 Any liability of us for non-delivery shall be limited to replacing the contracted goods within a reasonable time or refunding to you the purchase price.
6.7.4 If delivery is attempted and you are not present to accept delivery our courier we notify you of this by leaving a card and/or the delivery will be reattempted the next day.
6.8 Returns, shortages and refunds In addition to our returns policy, by law, customers located in the European Union have the right to withdraw from purchase within seven working days after the date the item was delivered. You must inform us in writing within seven working days starting on the day after they are delivered, you must ensure that you take reasonable care of the goods and must return the goods to us at your own cost. We will refund the amount you paid for the returned goods in accordance with our returns policy.
7. YOUR RIGHTS UNDER THIS CONTRACT
7.1 We guarantee that on the date you receive goods purchased from this website those goods will:-
7.1.1 subject to condition 6.3, correspond with the description of the Goods on the Website; and...
7.1.2 be of a "satisfactory quality" taking into consideration the description, price, appearance, finish and life expectancy of the goods;
7.1.3 fit for their purpose as fashion footwear; and 7.1.4 be free from defects, unless such defects have been brought to your attention on the Website.
7.2 If you think that your goods do not correspond with any of the rights above please return them in accordance with our Returns and refunds policy and you will have the right to either: 7.2.1 claim a full refund for the goods; or 7.2.2 request that the goods are repaired or replaced (provided that is a practical option).
7.3 In addition, when condition 7 applies, we will be responsible for refunding your postage costs in connection with the delivery and return of your goods.
7.4 The above rights reflect your statutory consumer rights and we disclaim all warranties, express or implied other than those set out above.
7.5 In order to keep the prices of our goods listed on this Website as low as possible, we will not be responsible for any losses you incur over and above the price you have paid for the goods together with any postage and packaging costs you may incur. In particular, but not limited to the above, we will not be responsible for any indirect losses that you may suffer.
8. AVAILABILITY OF THIS WEBSITE
We make every effort to ensure that the availability of this Website will be uninterrupted and error free. However, because of the nature of the Internet this cannot be guaranteed and your access to the Website may also be occasionally suspended or restricted to account for maintenance, repairs and the introduction of new facilities or services. We will attempt to limit the frequency and duration of any suspension or restriction, however, we shall not be responsible in any way for any loss caused to you by any interruption to your access.
9. DAMAGE TO YOUR COMPUTER
We make every effort to ensure that our Website is free from viruses, other harmful components and defects. However, we cannot guarantee that your use of this Website or any website accessible through this Website won't cause damage to your computer. You are responsible for ensuring that you use the correct equipment to use the Website and avoid anything which may damage your computer. We shall not be responsible in any way for any loss or damage or any kind which may be caused to computer equipment as a result of using this Website.
10. LINKS TO OTHER WEBSITES
We may include links from our Website to other Internet sites. We have no control over the contents of such sites and we do not vet their content. We do not accept any liability in respect of your use of these websites.
11. GENERAL CONDITIONS
11.1 Complaints We aim to provide you with a quality service. If, however, you feel that you have cause to complain, you can contact us at the address given in Condition 2 above or through our contact email. We will try to do our best to solve any problems that arise.
11.2 Events beyond our control 
11.2.1 We do not take responsibility for any event or circumstance which is outside our reasonable control nor for any losses arising directly or indirectly from such an event. Non-exhaustive illustrations of events or circumstances reasonably outside of our control include war, riots, explosion, abnormal weather conditions, fire, flood, government action, strikes, lockouts, delays by suppliers, accidents and shortages of materials, labour or manufacturing facilities.
11.2.2 If such a circumstance or event as described in 11.2.1 occurs we will contact you and give you the option to cancel your order and obtain a refund.
11.3 Entire Agreement This agreement supersedes any prior agreements or arrangements which may have subsisted between us, provided the information you have given to us is not incorrect or fraudulent.
11.4 Severability Notwithstanding that the whole or any part of any provision of this Agreement may prove to be illegal or unenforceable the other provisions of this Agreement and the remainder of the provision in question shall remain in full force and effect. 
11.5 Third Parties The parties confirm their intent not to confer any rights on any third parties by virtue of this Agreement and accordingly the Contracts (Rights of Third parties) Act 1999 shall not apply to this Agreement. 
11.6 Communications and Notices When you visit the Website or send e-mails to us, you are communicating with us electronically. We communicate with you by e-mail or by posting notices on the Website. For contractual purposes, you consent to receive communications from us electronically and you agree that all agreements, notices, disclosures and other communications that we provide to you electronically satisfy any legal requirement that such communications be in writing. 
11.7 Law 
11.7.1 Use of this Website and any contract for the sale of goods entered into by you with us is subject to the laws of England and Wales. If you live in England or Wales, you agree to submit to the exclusive jurisdiction of the English Courts.
11.7.2 Nothing in this contract shall limit your rights as a consumer.
12. COMPETITIONS
12.1 Prizes are non-transferable and cannot be substituted for a cash alternative.
12.2 There will be one entry per person only.
12.3 Duplicate entries will be void.
12.4 There will be only ONE winner per competition, drawn at random AFTER the closing date. (Where applicable).
12.5 The judges' decision is final and no correspondence shall be entered into.
12.6 Winners will be informed by email or direct message if the competition is hosted on social media.
12.7 Only the prize featured on the competition page will be available to winners.
12.8 If the prize option is a Base London shoe, winners are able to choose the colour of the shoe subject to size and availability.
12.9 Competitions will run according to the time frame specified in the copy of said competition.
12.10 Competitions are open to UK residents only unless otherwise stated.  
13. PROMOTIONAL VOUCHER CODES
Occasionally we like to treat our lucky customers to promotional discount codes, if you are one of the chosen then this is all you need to know about how to use your discount voucher code...
13.1 Simply shop as normal and once you have proceeded to the checkout, you will see a "Promo Code" field positioned underneath the items that appear in your shopping bag. Enter your voucher code exactly as it appears on your voucher and click the "Apply" button. The total amount due will then automatically adjust as per your discount entitlement.
13.2 Discount codes cannot be used after the voucher code expiry date and automatically become inactive.
13.3 The promotional code will only be valid for the discount/promotion stated and cannot be exchanged for any other offer.
13.4 Abandoned Cart discounts only apply to orders over £65 and cannot be used in conjunction with any other offer/voucher code.
13.5 New Customer Promotions can only be used once and cannot be used in conjunction with any other offer/voucher code. If you are having problems using your voucher code please contact us here.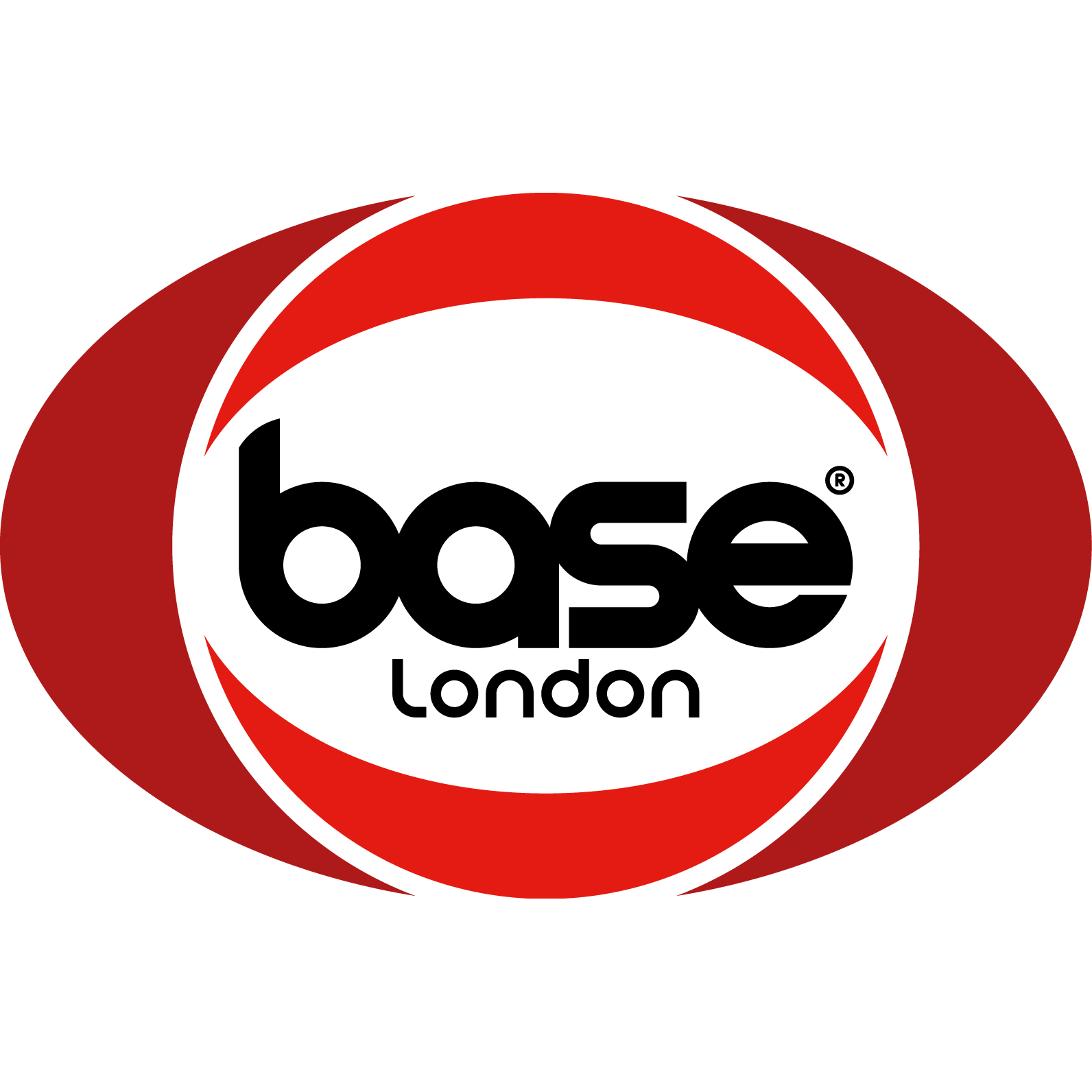 This trademark is registered in the UK.
14. Return Abuse
 In the interest of protecting Base London and offering our customers the best service possible, a £10 restocking fee will be deducted from the refund of customers we feel are exploiting or abusing our free UK returns service. Returning what Base London deems to be an excessive amount of orders (far more than would be normal from one of our genuine customers), or wearing the product and then returning via our pre-paid Collect+ service, may result in future orders being blocked from dispatch.
We continue to offer all our valued customers Free UK returns and we apologise for any inconvenience this policy may cause, but we wouldn't want the few to spoil the Base London shopping experience for the many. We hope you understand.
Exceptions:
 Any faulty or incorrect goods can of course be returned to us free of charge.
 If you feel there are extenuating circumstances regarding your order which make you exempt from this policy or have any questions regarding your return, please get in touch with our support team and we'll be happy to help - [email protected]
 Our customers will always be our first priority and Base London will not allow return abuse to spoil your experience shopping online with us.
Was this article helpful?